Why is this so hard? I have been trying to find black flat boots for months now. I thought it was going to be much easier, but no. Here are some of the "swing-and-a-miss" boots.
Chinese Laundry Women's Triple Play, $98.00
Verdict: The leather feels cheap and the ankle was too slouchy.
Immediately returned.
Thought I would set it up and pay more for better quality.
dv by dolce vita Women's Lujuan, $209.00
Verdict: While these were definitely better quality and the leather was much sturdier, the ankle was still too slouchy. Plus the calf area was too small. I never have problems with boots fitting around my calves... until I ordered these. Immediately returned.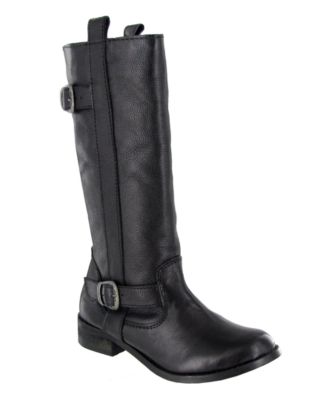 Mia Shoes, Roadster Tall Boots , $99
Verdict: I liked these boots but they were a little too 'biker' for my everyday style. They would definitely look great with jeans or leggings , but I don't really seem them working with tights + dress/skirt.
Kohl's SONOMA life + style Tall Boots, $54.99
Verdict: I don't even want to talk about these. They were a hot mess.
On a somewhat unrelated note (related because it's about boots but unrelated because they are not flats), I found these Steve Madden wedge boots and absolutely love them. They are so comfortable and look great with skinny jeans.
Madden Girl by Steve Madden, 'Vektor'
Anyway, back to the topic at hand. These are the boots that I really want.
Frye Women's Paige Tall Riding, $349
They are $350. I am starting to think it's worth the cost though. Maybe it's me being too picky about my boots. I have a pair of tan boots that I bought from Target last year and have worn a billion times. They were definitely worth the $40. But I want genuine leather since I know I will be wearing the black boots more often and, hopefully, to work. What is a girl to do?! First world problems (as my hubby always says)!